Woo Hoo, I Finally Made $1000 through my Amazon Affiliate Blog!
Woo hoo, I finally made $1000 from my amazon affiliate niche site!
This happened in December 2019 as people bought holiday gifts for each other through my affiliate links.
And this made my Christmas!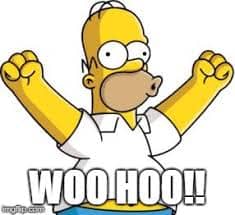 It would be important to note that the blog was on autopilot.
From December 1st to 11th, I was at my 9 to 5 job and therefore did little to the blog.
From December 13th, I was in hospital after I sustained injuries in a road accident. So there were no activities that I was involved in other than checking the daily traffic and earnings.
It was truly on autopilot!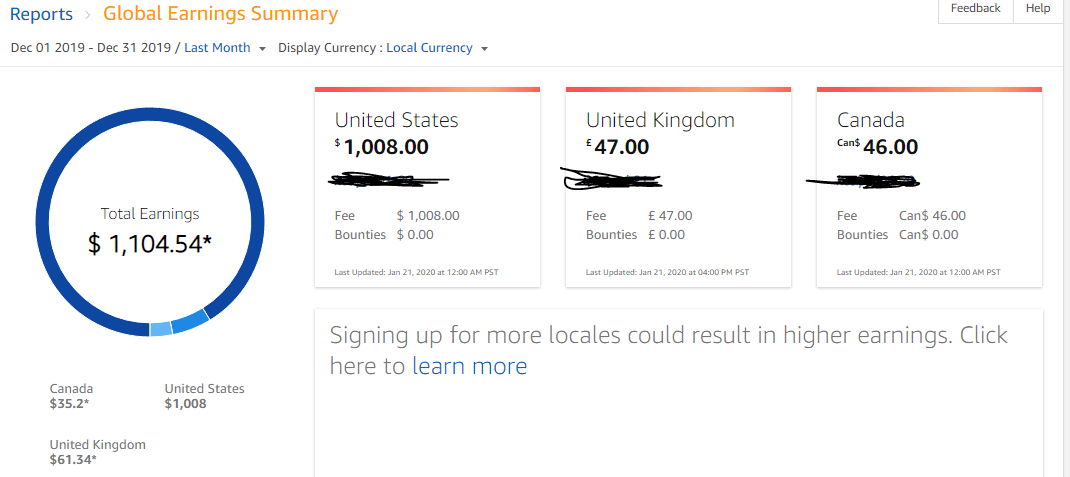 But I still made my $1000 passive income which was my dream goal the whole of 2019.
Why am I publishing this amazon affiliate success case study
Let's be honest. There are so many people on social media purporting to be making lots of money through affiliate marketing as well as other online hustles but when you try to follow them, you get to learn that all they wanted was to sell you their products or have you buy something through an affiliate link on their site.
That it bad. It really sucks.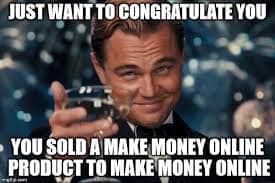 And so when I decided to publish this case study, I wanted to show you everything on how I made my first cool $1000 through amazon affiliate marketing (though it is not my full time hustle). Here, I will be showing you my income report, as well as explaining the intricacies of getting such a cool amount per month.
I will be telling you how I started my niche site, how regularly I publish my content as well as my link building process.
All in all, maintaining successful affiliate sites takes time and hard work. Nothing good comes on a silver platter.
Starting my first niche site
I was inspired by one Patrick Mahinge as he published on how he was making a kill with his amazon niche site. I was curious to know how he did it. The guy was awesome enough to start a Facebook group where he detailed the strategies he was using.
From the Facebook group, I learnt that I needed to seriously learn on Search engine optimization (SEO), niche selection as well as creating quality content.
Since I was a freelance writer, things were not really hard for me on getting a topic to blog about, doing link building as well optimizing my pages.
But my first site flopped.
It failed.
Fortunately, I was able to follow other success stories of the likes of Spencer Haws, Doug Cunnington and Luqman Khan who said that failure is a good thing because it teaches you one way not to approach things.
And so, I went back to the drawing board and started another niche it.
It did well and this is the niche site that earned me a cool $1000 last month.
Related: Affiliate marketing in Kenya
Niche selection
Selecting the niche was a no brainer for me. It revolves around a department in the organization that I work in.
I wanted something that would not give me headaches as I tried to flesh out new content.
And I was right in my selection because everytime I am having a writer's block, I only have to visit the department in question and get inspired on the new content to create.
After selecting the broad niche, I niched down to just one particular angle and started my keyword research.
I used ahrefs which is a cool keyword research tool.
Since I was a new entrant into the niche, I looked for keywords with a KD of less than 10 and where my would be competitors had poor content and few backlinks.
The next thing was content creation.
Content Creation
I first did around 15 articles with a word count of around 30,000 words.
Creating the content was rather a tall order since this was an underserved niche. My competitors who were few had crappy content. I had to seriously research through watching youtube videos as well going through forums where people were discussing the niche.
Having written my content that I was sure was great and sound, I went to the next thing.
I bought my brandable domain name, got some cheap hosting and installed a free theme to start things off.
I published my content and interlinked the articles since I had read somewhere on the importance of siloing.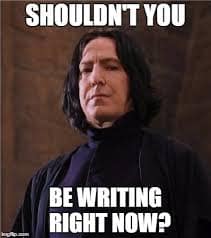 Doing all these took me about 3 weeks since I was still working at my full time job.
Having done it and made sure that my on page was sound, I went ahead to link building.
Link Building
In a few words, my backlinks strategy involved finding an expired domain that I redirected to the main blog, blog comments, pbn as well as white hat guest posts on niche related websites.
I had found a way to scrape expired domains that formed my PBN. So my very first backlinks were nothing but PBN links.
Yes, I am a black hat seo but if you are not, don't worry, you can still rank without backlinks.
The PBN links really pushed the needle in terms of ranking my content.
But I was not done yet.
I would regularly acquire comment backlinks plus a few white hat guest posts here and there that I would then point to my niche site.
Daily SERP check with Google search console and Ahrefs
I continued building topical relevance to my pages through creating more content that interlinked to the already published content.
I also looked for other keywords in the niche to write reviews on.
Daily, I would go to Google search console (GSC) dashboard to check on how my keywords were doing on the SERPS.
And I would build backlinks or better my on page if I found a keyword that was going up in the Google search result ranks.
Adding affiliate links
Once my product review keywords were appearing on page one of Google, I quickly signed up to the Amazon associates program and added affiliate links to the product reviews.
I also made sure to create some nice looking comparison tables with visually appealing call to action (CTA) buttons.
And the revenue started streaming in slowly per month.
Conversion rate optimization (CRO) and maintaining my serp positions
At first revenue was not that good. But it improved once I added rehub premium theme, started used heatmaps to tell me where my readers were clicking, as well as tweaked my CTAs.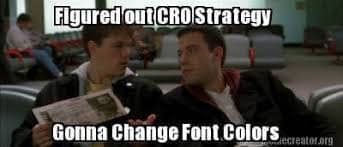 I also had to make sure that my SERP positions remained constant or went on improving. To do this, I had to better my on page optimization, interlinked my content with other relevant pages and also built backlinks.
Genius link was really instrumental
You will note that some of the earnings came from Amazon Canada and Amazon UK. This is because I have localized links such that when you click on my affiliate links while you are in Canada, you will be taken to the amazon Canada store since it is the one near you.
I do this with genius link which is seamless and easy to use. Since I started using Genius link, I have seen over $50 increase in revenue.
Ezoic too played a role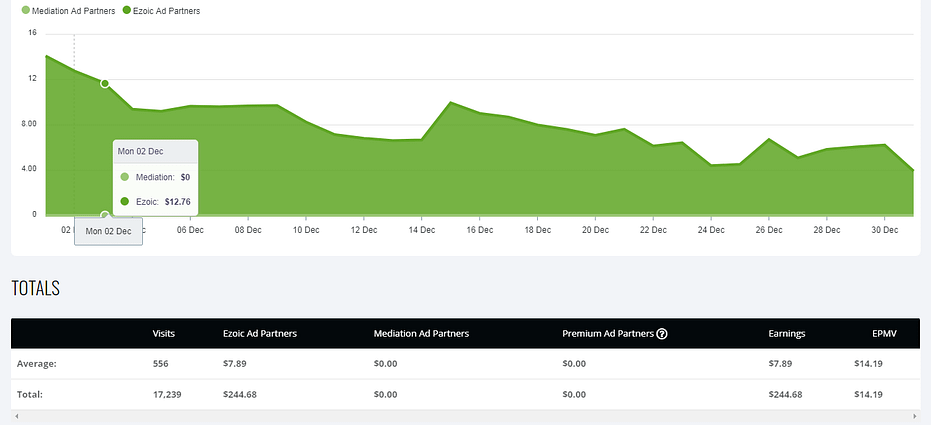 Other than Amazon earnings, the blog was also able to close the month at $244 from Ezoic ad revenue. So in total, I made $1348 from the blog. Ezoic is a technology tool that uses machine learning to place my ads at optimal position so as to increase my ad impressions and revenue.
Though it makes the site slow, I do not regret using it since I would not have gotten this extra $244.
Blog age and traffic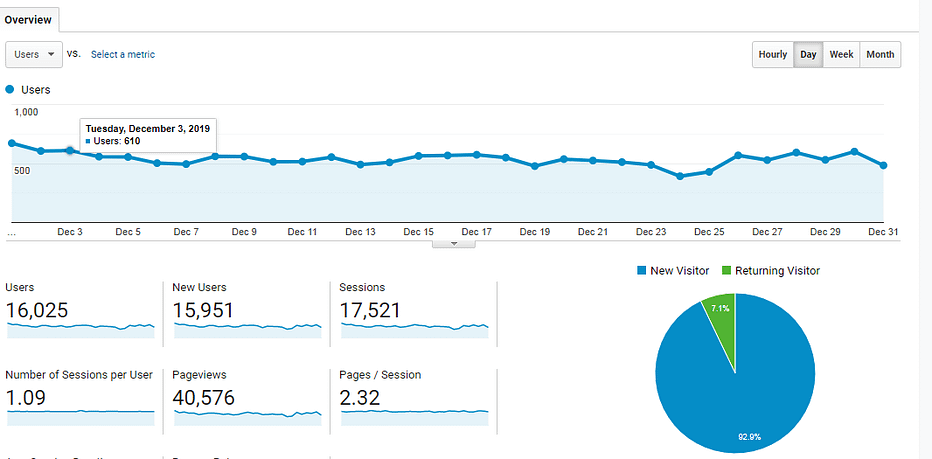 Age of the blog and url
For security reasons, I cannot reveal the url of the blog lest I start getting hack attempts or competition from other people.
At the moment, the blog is just 3 months shy from 2 years. It has really changed my life and how I view things. My mindset has improved and I now believe that when I focus on something, give it my all, things are going to get better or I am going to gain immense knowledge from the experience. And I hope that in 2020, things will be even better than they were in 2019.
Keyword Research and traffic
My traffic has mostly been organic from Google search engine. All my articles are KGR compliant and I really thank Doug Cunnington for his awesome videos where he explains how to easily rank for low traffic, low competition keywords. I receive an average of 15k to 26K visitors per month.
Towards the end of the year, I tried out pinterest traffic and even went ahead to sign up with tailwind which schedules posts on Pinterest. I however did not give myself time to learn how Pinterest works and so things did not pick up. In 2020 though, I plan to learn how Tailwind and Pinterest works so as to leverage on the traffic they provide.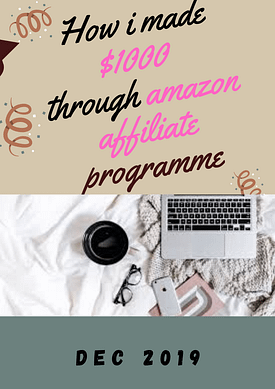 Check: How to start a blog in Kenya
5 Key takeaways
Online business is all about having a sound strategy. Implement it and start reaping the benefits as money comes to your bank account per month.
If other people are doing it, you too can do it if only you change your mindset. I started the niche site after reading inspiring success stories on Niche pursuits by Spencer Haws as well as Human Proof Designs by Dom Wells.
Adopt a strategy to success. I read the book The Miracle Equation by Hal Elrod and decided to use his mantra. Hal says that success is nothing but a product of unwavering faith and extraordinary effort. That has really worked awesomely to my success story.
Things are never going to be easy. But even if they do not work, learn from the process and start again. I had a men's health blog in 2017 but it was hit by the popular medic update. I decided to learn from the process and start another site. Now see, I am rejoicing in my toils.
Replicate the success. This year, I plan to start other two amazon affiliate niche sites and push them to success just like I did with this blog. This is because I have found Amazon Associates program to be a legit way to earn online.
Impact others when you succeed. One of the resolutions that I have made in 2020 is to help other people learn and earn through blogging. And that is why I am here blogging my success story.[/su_note]
You can also read my Amazon success journey for the year 2019 and if you are really convinced that you too can make it, you shoudl probably start things here.
Newbies who might not have money to subscribe to paid keyword tools will benefit a lot from this resource on free keyword research tools that I wrote up here.