Back in 2016 when I was still working as an online freelance writer, there were these Kenyans who started this hype about earning money in your sleep.
They called it affiliate marketing.
It seemed crazy. It was unbelievable and for sometimes I ignored them as another bunch of scammers who were praising some sort of pyramid scheme.
But then seeing how hard I was struggling to raise my family, I decided to give this affiliate marketing fad a try.
I have never looked back.
Affiliate marketing in Kenya does work.
But you need to separate the wheat from the chaff because there are some guys who are in some sort of pyramid schemes that have been baptized as affiliate marketing.
How to do affiliate marketing in Kenya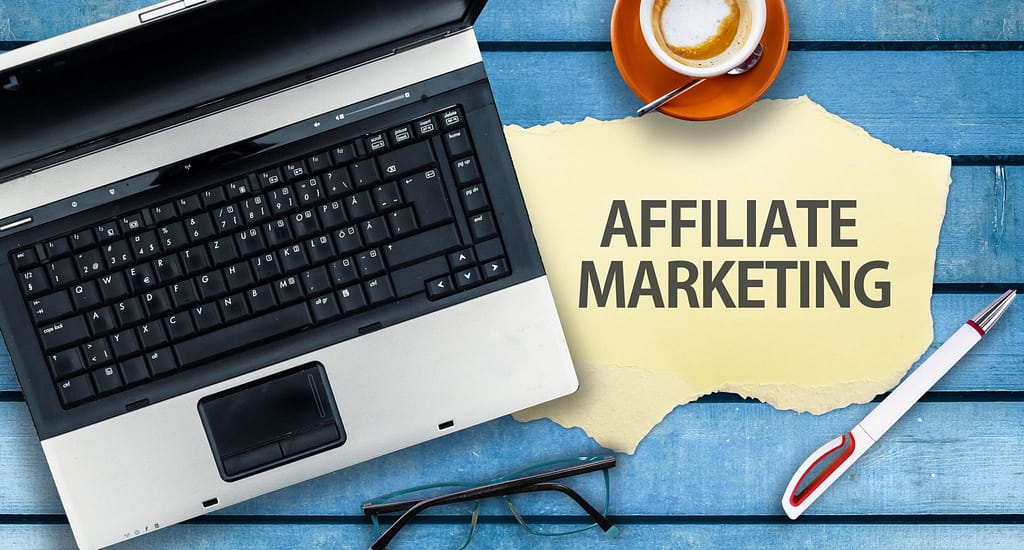 Affiliate marketing is an excellent way to make money online. Bloggers and social media influencers are making a kill from this model.
Personally, I have used it to affiliate blogs to make money from Amazon, Shareasale and Moreniche affiliate programs.
While all these are international companies, one can also make money from Kenyan companies such as Jumia, Killmall and any other ecommerce platform that offers bloggers a chance to promote them for money.
The model of affiliate marketing through a blog is the same whether you are doing it on Amazon or Jumia. So how does it go?
Create content on your blog around a product to serve to your online audience
Register as an affiliate marketer with the model
Convince your audience to buy the product from the platform using the affiliate links assigned to you
Get a commission once a sale is successful

Affiliate marketing jobs in Kenya
Let's explore the different affiliate marketing programs that you find in Kenya. The beauty of the Internet and affiliate marketing jobs is that you are not limited to companies in Kenya. You are also not limited to promoting your products to an audience in Kenya to earn as an affiliate marketer.
No, you could be somewhere holed in Kakamega promoting amazon affiliate products to your readers in New York and you will still earn.
Personally, I have been working as an amazon affiliate marketer to an US audience while I am still here in Kenya. There are a lot of Kenyans doing the same.
Popular Affiliate Programs in Kenya
So, lets look at the popular affiliate programs in Kenya:
Jumia—Jumia is an ecommerce platform that sells all sorts of products all the way from electronics, school stationery, clothes and furniture. They also invite affiliate marketers to their program to help them promote their products. Once you sell a product through the affiliate links that they assign you, they give you a commission.
How to register as a Jumia affiliate marketer
Registering as an affiliate marketer on Jumia Kol is pretty easy. Just click on this link to go to the jumia affiliate marketing sign up page.
Here, you will be required to give your personal details: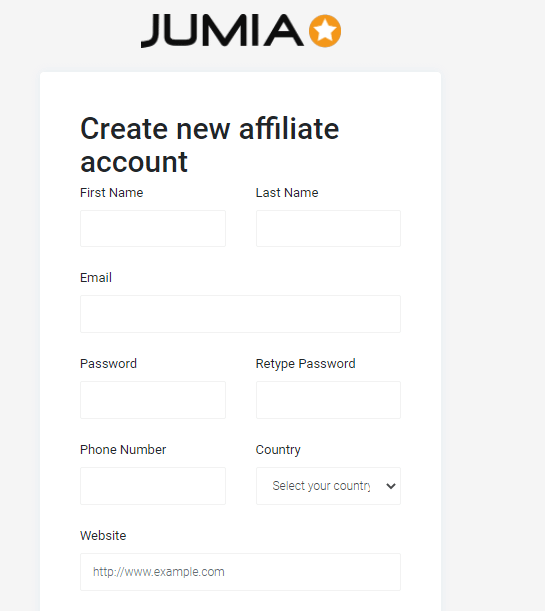 Once done, you will be expected to verify your email, provide your payout details and you are done. You are now a Jumia affiliate marketer.
But you will not earn from this.
You need to start promoting their products.
Lets say that I have an audience interested in buying the Samsung Galaxy S7 edge, I would go to the Jumia.co.ke page, get the url for this product which is this one:
I will copy this url and go back to my Jumia affiliate dashboard.
I will then click on the 'Advertising' tab then 'Custom Links' under it.
I will copy the url of the Samsung Galaxy S7 Edge on the Web Page Url text box.
The program will generate an affiliate link which I can then use to promote the product.
It looks something like this

Kilimall—Kilimall is another ecommerce platform similar to Jumia and they also have a way of rewarding their affiliate marketers with commissions. You can join the program here.
Kenya web experts—Kenya web experts is a hosting and domain registration company. They have an affiliate marketing program where if you refer people to their services and they end up buying, you receive a commission.
Now let's look at the nitty gritties of how to go about it.
I have pointed out that you can use social media to convince your followers to buy products. I always see influencers doing this. But since I am not famous, I use blogging as my platform.
So how do we go about it? Let's say we want to earn from promoting electronics on Jumia.
We will create blog in the electronics niche. Since we want to market locally, we could as well buy a .co.ke domain
How to register a .co.ke domain for affiliate marketing in Kenya
I will be using Kenya web experts as my domain registrants.
Before registering, you need to make sure that your domain is brandable.
Lets say for example that I wish to register a domain where I will be promoting smartphones.
I could come up with a domain name such as smartphonegeek.co.ke or something like techgeek.co.ke
With smartphonegeek.co.ke, the domain suggests that I will only be blogging about smartphones. That is limiting because I might as well decide to blog about other household electronics such as TVs and woofers.
Techgeek.co.ke seems a better choice.
The next thing is checking whether it is indeed available.
So lets head over to Kenya web experts to check for the availability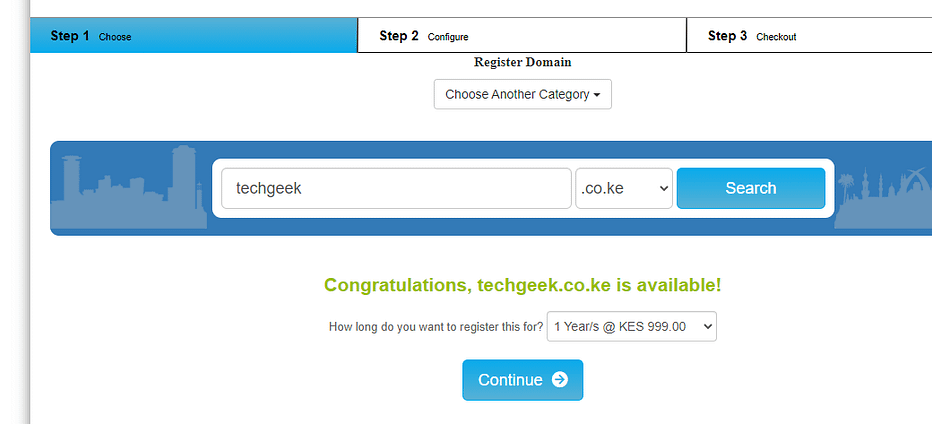 Kenya web experts shows that the domain techgeek.co.ke is available and is going for Kshs.999
I should click on continue to claim it.
In the second step, they will ask for the nameservers that the domain should be pointed to.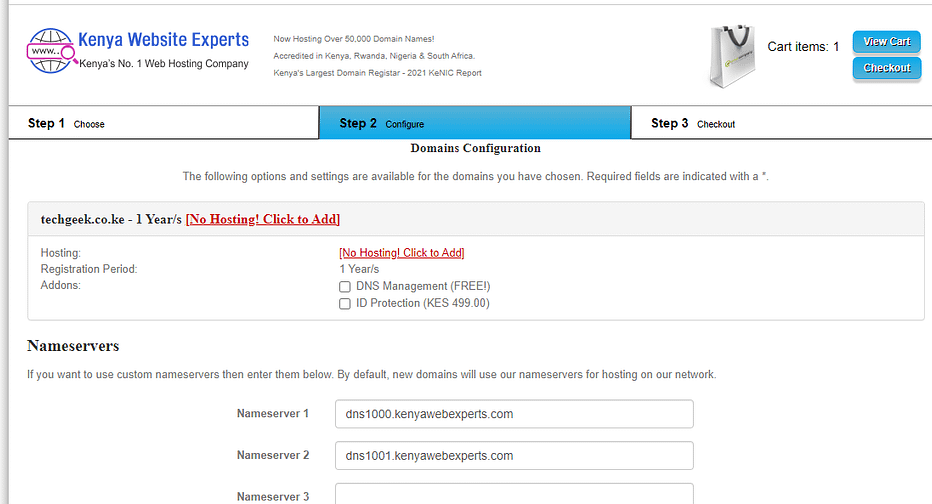 If you already bought a hosting service, you will have these nameservers which you can change. If you have not yet bought hosting, use the default nameservers since you can change this later.
Then click continue.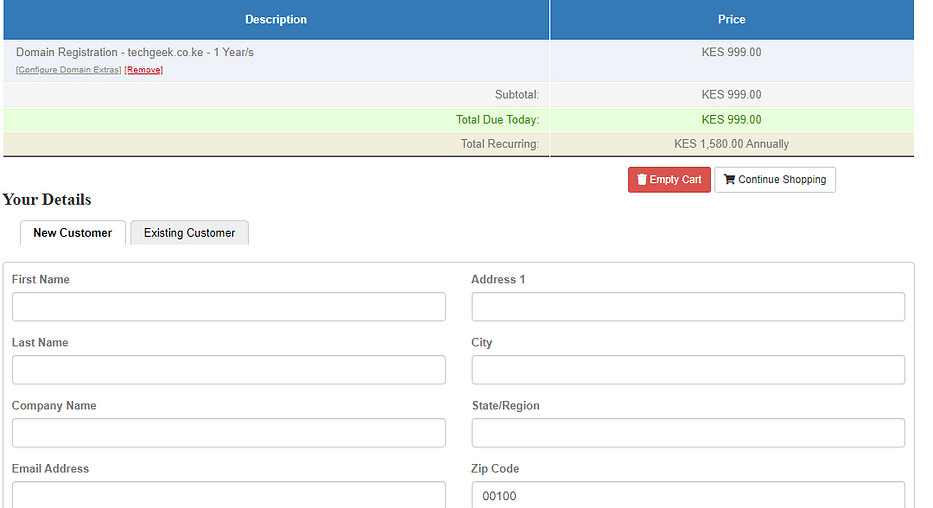 They will ask me to provide my personal details as well as complete the order by paying.
After we have bought a domain and configured our hosting with WordPress, we are ready to start blogging.
You can also check out my cheapest domain registrars in Kenya here.
Related: How to start a blog in Kenya
Keyword Research
We will niche down to a certain field in electronics say for example smartphones
We will create content around 'best phones in Kenya under 15k'.

This is just one keyword that I quickly thought about. It has a search volume of 110 people per month according to Keyword surfer.
To arrive at a bunch of good keywords, you need to spend time doing proper keyword research.
Although you can use paid tools such as Ahrefs and Semrush for this step, I have found some really nice free keyword research tools that internet marketing noobs who are low on cash can use.
Content Creation and Building Topical Relevance
We will have one top 20 smartphones to buy on Jumia post with 20 phones reviewed. We will then break down and review each of the phones where each of the product review post will then be linking out to our main post.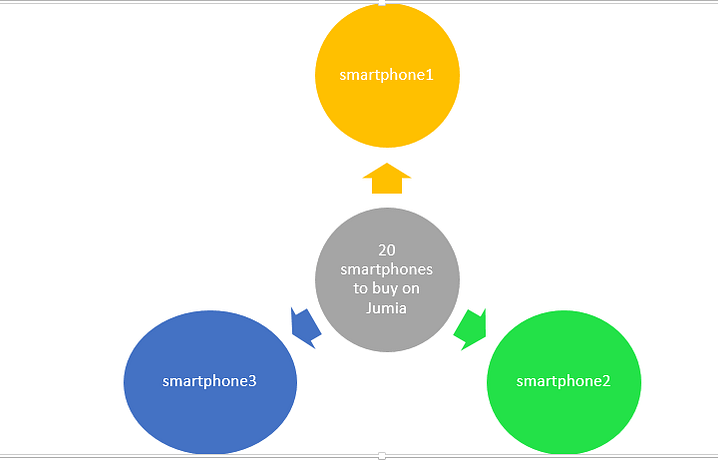 This is called building topical relevance through interlinking.
In the main post, you could have a comparison table that looks into details the features of each of the smartphones. You also need to have some good call to action buttons that attract people to click their way to Jumia.
Backlinking
A backlink is like a vote from other websites that say that if you are interested in a certain topic, you should go to this site.
Through backlinks, search engines are able to give you a better ranking on their result pages.
So once we are done creating content and uploading it onto our blog, we need to create authority by backlinking using directories and guest posts on local blogs. You could create guest post links if bloggers are willing to guest post you or rather just buy links.
There are also business directories such as yellow pages where you list your business and create a backlink to your site.
Other backlinking methods include creating blog comments with a url pointing to your site. You could also create a private blog network (PBN) if you have the resources and know how to do it.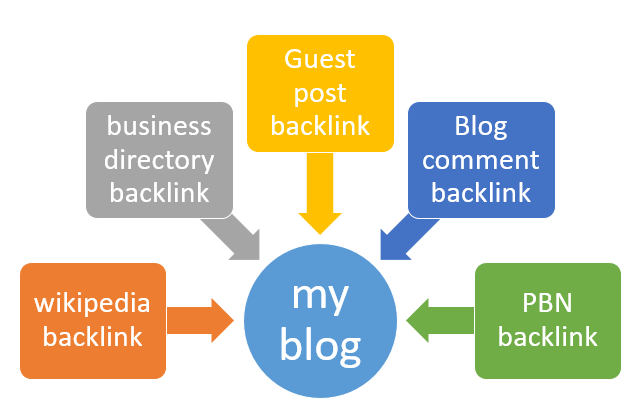 Wait to rank on search engines
Search engine optimization is a game that requires patience. You do not create content today and rank tomorrow No, it takes time. Sometimes, you might have to wait for more than a year to see results.
Yes. When you have a new blog, Google places in a sandbox where your page does not rank though your content is great and there is low competition for the keywords you are blogging about.
As you wait though for Google to recognize you as an authority so as to rank, you could be working on getting your business on social media platforms. Work on creating great pins and uploading them on Pinterest. You could also join Facebook groups where your niche is discussed and start sharing your informative pages.
You could also try to answer questions on Quora that relate to your niche topic while sharing relevant pages on your blog to enhance your answer.
Get traffic and link out to affiliate products
Once you start getting good traffic on your blog, it is time to monetize your efforts.
Go to the Jumia affiliate program, generate affiliate links for the products you have listed and link out to the product pages.
This way, anytime someone clicks on your affiliate links to Jumia, you will awarded a commission.
Conversion rate optimization
Now that you are being paid for your efforts, it is time to better your review pages. Work on creating highly converting content that convinces readers to take an action and go to Jumia to buy off your affiliate links.
If you do not have comparison tables, use tablepress plugin to list your products in a tabular format. Readers will be able to easily compare the products you have listed and make informed choices.
You could also try to A/B test the colors on your call-to-action buttons so that you find the winning color.